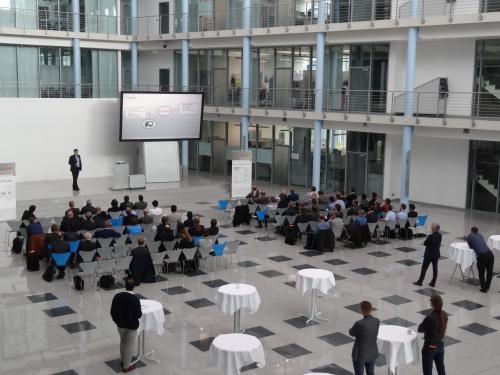 On October 18th to 19th, 2016 Festo made its famous atrium in Esslingen available to the 4th AutomationML User Conference. For two days it was all about AutomationML.
On day 1, the 100 participants were able to listen to many presentations like the keynote of Rüdiger Fritz from SAP SE "When AutomationML meets OPC UA and Service Oriented Architectures on the Shop Floor – a Team with Huge Potential" or to the import presentation, because of its impact, of Thomas Funke (EPLAN) and Michael John (Siemens) "Automation Project Configuration: Exchange of ECAD Data Between EPLAN P8 and Siemens TIA Portal". The day were closed with a panel discussion where Oliver Riedel (ProSTEP iViP), Gerd Eßer (inpro), Gerald Mayr (Outotec), and Matthias Prinzen (Festo) had answered questions related to "Road to Industrie 4.0: AutomationML as Digital Enabler".
Also day 2 offered informative presentations, e.g. "AutomationML and OPC UA – Enabling Technologies for PLUGandWORK in a Smart Production" from Miriam Schleipen (Fraunhofer IOSB) or "Practical Application of AutomationML in Engineering Toolchains" from Joachim Burlein (Daimler), Manuel Paul (Festo), and Anton Strahilov (EKS InTec). Day 2 were closed with an inspiring presentation of Björn Grimm (Daimler) "Using AutomationML in the Engineering Process: Start Implementing or Keep Waiting?" and with a tour through Festo's production plant "Technologiefabrik Scharnhausen".