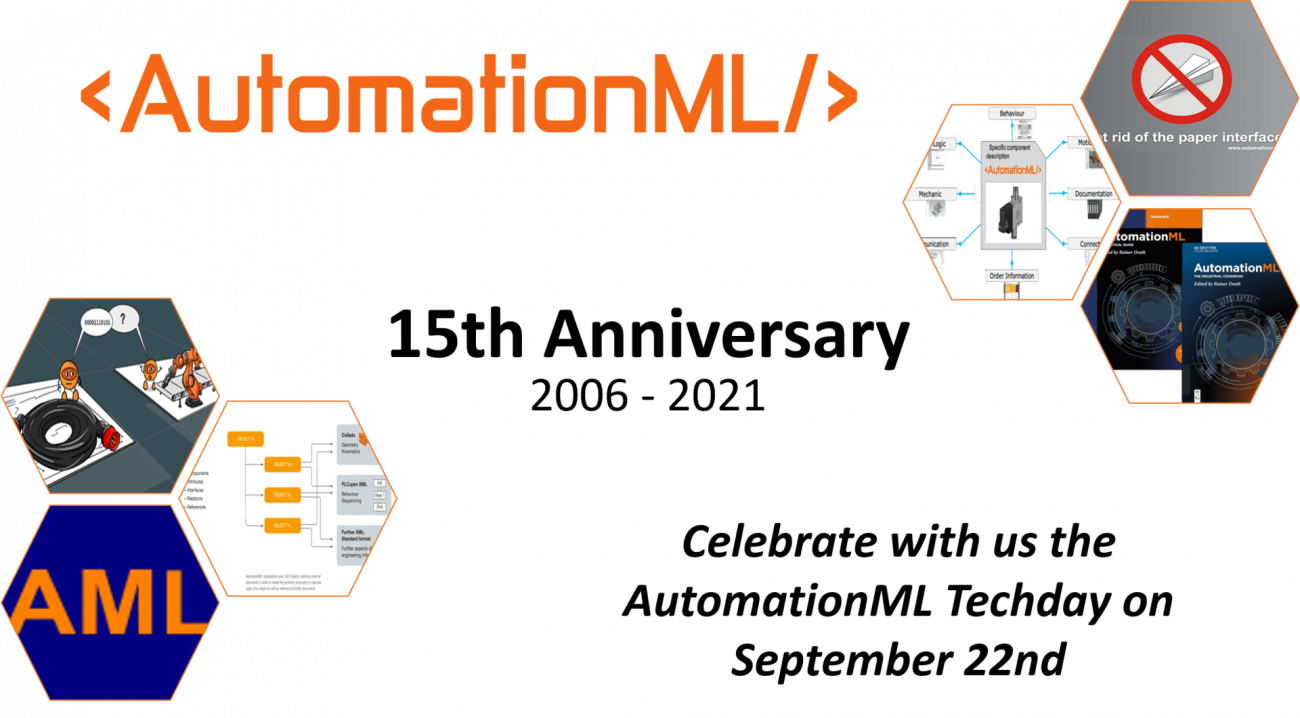 Be part of it when we celebrate AutomationML's 15th anniversary on September 22nd with a special web event – the AutomationML TechDay. You will find more detailed information below. We look forward to your registration!
The beginnings of AutomationML go back to 2006. A lot has happened since then. Starting as a vision, AutomationML is now an international standard and has found its way beyond the academic environment reaching industry with diverse applications.
To acknowledge this development of AutomationML within the last 15 years, we want to give interested people from all over the world the opportunity to gain insight into AutomationML, its development and applications. For this purpose, lectures on various topics will be given by AutomationML experts from different organisations.
In order that you do not miss any of the interesting lectures, you will have the opportunity to move freely between the lectures and their rooms, whereby the lectures will be repeated several times so that you also have the chance to hear topics of interest.
The AutomationML TechDay will be held with the alfaview® video conference system. This allows you to move freely around the different thematic rooms and listen to the various lectures or exchange ideas and get in touch with other participants. You will receive the exact procedure and access to the AutomationML TechDay after registration.
Which topics will be presented?
The AutomationML TechDay will take place on September 22nd, from 1 p.m. to 5 p.m (UTC+2). The participants are welcomed by the Chairman of the Board of AutomationML e.V.. After the keynote by an esteemed expert, the presentations on the various topics will be held in parallel sessions. Finally, there will be a joint panel discussion where the Board of the AutomationML e.V. and the experts will be available to answer your questions.
| Time(UTC+2) | Content |
| --- | --- |
| 13:00 | Welcome |
| 13:10 | Keynote |
| 13:30 | Parallel sessions |
| 16:00 | Panel discussion |
| 17:00 | End |
The following fields of utilization of AutomationML for information representation will be presented at the AutomationML TechDay:
AutomationML architecture, basics and innovations
System Control Diagrams (SCD)
Module Type Package (MTP)
Automation Project Configurations (AR APC)
AutomationML Component
AutomationML Governance
Asset Administration Shell
eClass
Object Constraint Language (OCL)
Communication Systems
Semantic Integration
OPC UA
We will announce the final selection of topics as soon as possible before the event. Nevertheless, we reserve the right to make changes at short notice.
If you want to participate in the AutomationML TechDay on September 22nd, we need you to register in advance and send the completed form to the AutomationML e.V. office (office@automationml.org).
We need your first and last name as well as an email address. With this data, an account for the video conferencing system will be created for you and you will receive the access data separately by email from alfaview® in advance. Your data will only be used for the planning and organisation of the AutomationML TechDay on September 22nd and will be deleted 2 weeks later at the latest.
You can reach the registration form via the following button. The registration is possible until September 17th.
What should be considered?
An exchange is always mutual. Do you have a development or use case that you would like to present and share with a wide audience? Then please use the "Your talk" line in the registration form.
The number of participants is limited to 300. Therefore an early registration is recommended.
Should demand exceed this restriction, we may attempt to expand the technical limits beyond this number of participants. However, at this point, no guarantee for an expansion can be given. We will inform about a possible expansion of the number of participants or other potential opportunities for participation here on our website in a timely manner.
In order to exclude problems with the dial-up or similar as far as possible, we will carry out a check-up in advance. alfaview® and we will help you to eliminate potential sound, image or connection problems in advance. You will be informed of the exact date after registration. Regardless of this, you can contact us or the alfaview® support at any time.
If you have any questions, please do not hesitate to contact the AutomationML office.