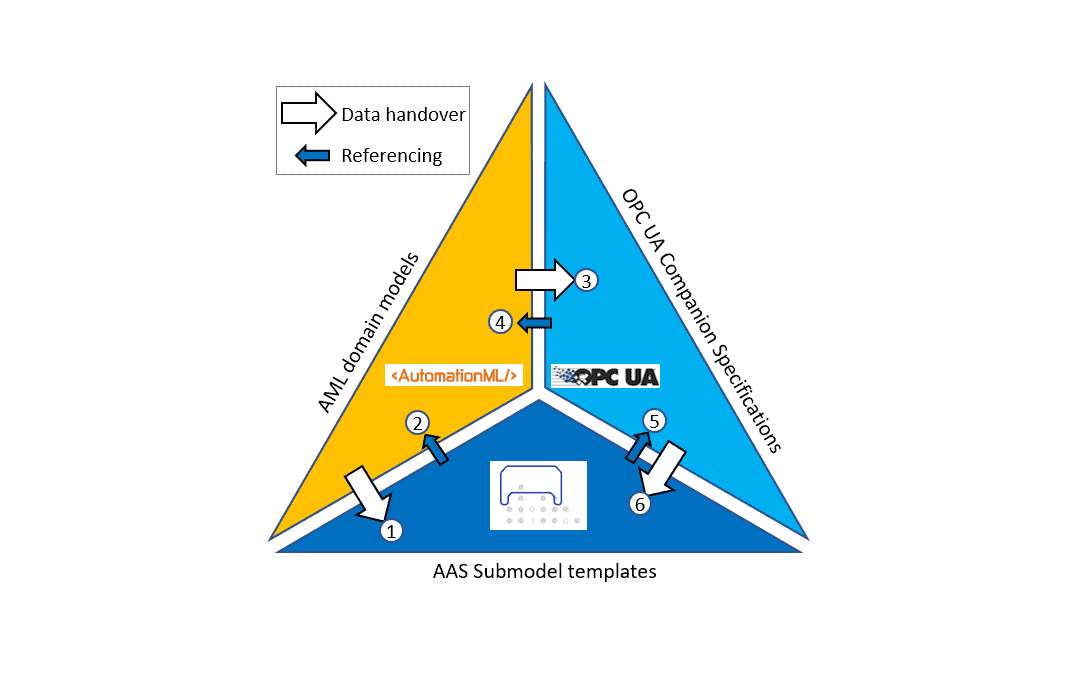 Hanover, April 17, 2023: The associations AutomationML e.V., Industrial Digital Twin Association (IDTA), OPC Foundation and VDMA announce the publication of a jointly prepared discussion paper (German language only) on " Interoperabilität mit AutomationML, der Verwaltungsschale, OPC UA inklusive Companion Specifications". The paper is available for download from the respective organizations.
Download (German language only) paper here
Companies are looking for solutions for the implementation of Industrie 4.0. From the associations' point of view, proprietary and closed interoperability solutions are hardly sustainable in the long term in this context. In particular, AutomationML, the Asset Administration Shell (AAS), and OPC UA with its associated information models (OPC UA Companion Specifications) are considered Industrie 4.0 key technologies, are recommended by the Industrie 4.0 Platform, and offer comprehensive concepts for unified digital interoperability between Industrie 4.0-enabled machines and systems throughout their lifecycle.
The discussion paper was developed together with experts from industrial companies Microsoft, KUKA and Siemens to provide orientation and recommendations for action. It is aimed at decision-makers, strategists and experts in companies who are pursuing the goal of making their own value creation systems fit for the future in the sense of Industrie 4.0. It describes a target image or "big picture interoperability" that shows how the technologies mentioned fit together, complement each other and how interoperability across domains is achieved through combined application in industrial automation. Furthermore, the discussion paper addresses concrete recommendations for action to developers and users of interoperable system solutions and provides orientation for the use of the technologies mentioned.
The associations and organizations in this discussion paper declare their will to cooperate in order to avoid double standardization in the interest of their members and the entire industry. The associations, research and industry are invited to further refine and improve the presented Big Picture Interoperability.